The company "d'Ailleurs"
« Good evening, how are you ?

»



Street theatre performance featuring three clowns and a planet. Duration: 35 minutes.
This show has music but no words, and can be presented in fixed-site and/or walkabout versions.
It can be performed outdoors or indoors (theatre, circus tent, etc..)
The length of the walkabout version is flexible, depending on the space and the artistic and technical requirements.
Our work combines various types of performance: street theatre, physical theatre, movement, masks and puppets.
Our other shows, featuring street theatre, stilt-walkers, improvised performance, young people's theatre,
pyrotechnic parades and Christmas shows, are still touring…
The photos were taken during our touring in streets, lanes, alleyways, gardens and woods in
France, Germany, Belgium, Spain, Holland ,Luxembourg and Switzerland.
The video was filmed by Touspourun at the Vivacité festival in Sotteville les Rouen, France.
The show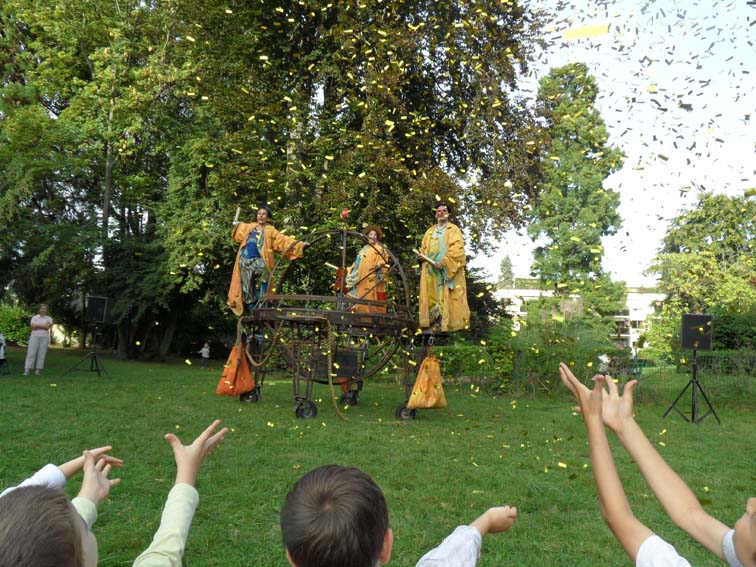 "This is a story about clowns.
They travel, love each other, dance, and sleep,
Dreaming about somewhere else they wake up here.
During the night jealousy and rivalry rise up.
They get angry, they argue, they separate.
But alone…they are unhappy.
So little by little they get back together, make up,
And take a few steps together towards the future,
Leaving in search of new horizons,
They leave behind them laughter, tears and hope,
And a hint of poetry…"